Colour calendar of Kyoto – Fukumi Shimura's 90th birthday anniversary exhibition-
I have received this opportunity to have an exhibition of my works in Asakusa which possesses the rich fragrance of Edo culture.
I had been deeply longing to enjoy the atmosphere of Asakusa once, but I had not had the opportunity until today. I am so happy that I am unexpectedly given this opportunity to have close contact with this culture of chicness. In every season I have received immeasurable benefits from plants by their colours and I have made kimonos to express a part of this benefit as a colour calendar.
I would be delightful if I could convey the taste from Sagano, Kyoto in some way.
I am looking forward to your visits.
On a fine day, February, Fukumi Shimura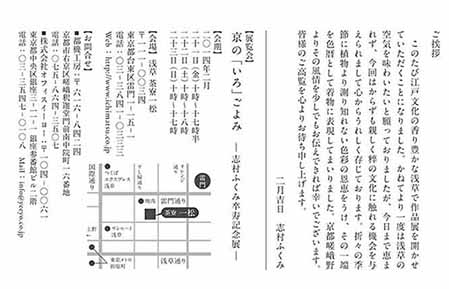 【Schedule】 Fri, 21st, Feb 10:00am ~ 17:30pm
           Sat, 22nd, Feb 10:00am ~ 18:00pm
           Sun, 23rd, Feb 10:00am ~ 17:00pm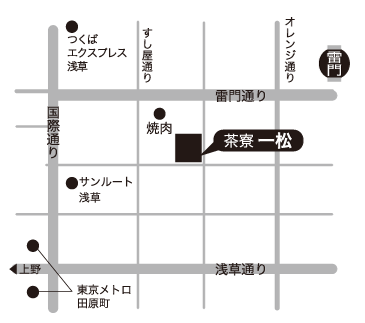 *Tsukuba Express Asakusa Station
*Sushiya Street
*Orange Street
*Kaminarimon Gate
*Kokusai Street
*Korean Barbecue Restaurant
*Tea Ceremony Cottage, 'Ichimatsu'
*Hotel Sunroute Asakusa
*Tokyo Metro Tawaramachi Station
*Ueno
*Asakusa Street
■3minutes walk from subway Ginza line Tawaramachi Station ■5minutes walk from Toei Askusa line Asakusa Station ■5minutes walk from Tsukuba Express Asakusa Station
The exhibition of Fukumi Shimura and Yoko Shimura's works at 'Tea Ceremony Cottage, Ichimatsu' which is located in a tranquil space away from the din and bustle of the city. The exhibition takes place in this tea ceremony cottage, which was built in a Japanese traditional technique of architecture, with a refined and elegant garden.